Travelling from London to Johannesburg has never been more accessible! Know about the unparalleled ease of direct flights from London to Johannesburg, opening a gateway to an enjoyable journey. Imagine boarding a plane in the bustling city of London, & within mere hours, finding yourself immersed in the lively heart of Johannesburg.
These non-stop flights redefine travel, prioritizing passenger comfort with tailored services from premier airlines. No complexities of layovers & travel hassles as this straightforward flight connects two incredible cities. Whether your journey is driven by business or leisure, these flights exemplify convenience. Get on a stress-free adventure, bringing you closer to Johannesburg's rich culture, stunning landscapes, & warm hospitality.
The direct link forged by these flights not only reduces travel time but also transforms every moment into a cherished memory. It creates an experience that transcends mere transportation & allows you to savor the essence in a single, seamless voyage. Pack your bags & embrace the joy of exploration, as these flights unfold a travel narrative filled with comfort, efficiency, & the allure.
Airlines Providing Direct Flights From Johannesburg To London (JNB to LHR)
Know about the services offered by leading airlines providing direct flights from Johannesburg (JNB) to London (LHR). Getting on a journey between these two vibrant cities has never been more comfortable & convenient. British Airways, with its rich legacy & commitment to excellence, ensures a travel experience marked by punctuality & superior in-flight services.
Meanwhile, Virgin Atlantic stands out with its innovative approach, offering contemporary designs, gourmet cuisine, & personalized attention. Both airlines promise a delightful fusion of comfort & luxury. It makes your trip not just a flight but a memorable voyage infused with world-class hospitality.
| Airlines | Available Week Days | Daily Frequency of Flights | Departure Terminal |
| --- | --- | --- | --- |
| British Airways | Full Week | 2 | JNB- ALHR- 5 |
| Virgin Atlantic | Full Week | 1 | JNB- ALHR- 3 |
British Airways
It is an epitome of aviation legacy, standing tall as a symbol of reliability & top-notch service, with direct flights from Johannesburg to London (JNB to LHR). As you embark on your journey with this airline, you step into a world where every detail is meticulously crafted for your comfort.
With decades of experience, the airline offers a seamless travel experience, seamlessly blending British charm & efficiency.
From the moment you board until touchdown, you are enveloped in an atmosphere of warmth and sophistication.
It prides itself on punctuality, ensuring your journey adheres to a schedule that fits your plans perfectly.
The in-flight services are nothing short of exceptional, with courteous staff catering to your every need.
Virgin Atlantic
This one is a pioneer of innovation in the aviation realm, redefining the travel experience with direct flights from Johannesburg to London. Each flight with it is not merely a journey; it's an adventure infused with modernity and style.
Its commitment to contemporary design is evident in every aspect, from the sleek cabin interiors to the state-of-the-art entertainment systems.
Settle into your spacious seat and indulge in gourmet cuisine crafted to tantalise your taste buds.
The in-flight entertainment options are diverse, ensuring your hours in the air are as enjoyable as your time on the ground.
What truly sets Virgin Atlantic apart is its attentive & friendly staff, dedicated to ensuring your flight is nothing short of extraordinary.
Elevate your travel experience to new heights, making your trip from JNB to LHR not just a journey but a remarkable memory.
Other Airlines Offering Flights From JNB To LHR
Embark on a straightforward and comfortable journey with direct flights from Johannesburg to London with various reputable airlines. These carriers, including Air France, Turkish Airlines, KLM Royal Dutch Airlines, Emirates, Qatar Airways, & Lufthansa, offer simple & efficient travel options.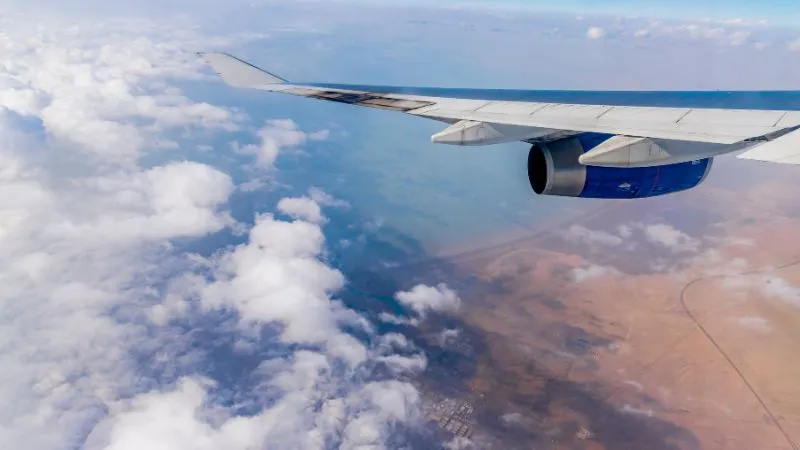 With reliable services, convenient schedules, & friendly staff, your trip becomes hassle-free. Experience the ease of travel as you fly with these airlines, ensuring a smooth & uncomplicated journey from JHB to London. It allows you to focus on your destination rather than the journey itself.
| Other Airlines | Terminal |
| --- | --- |
| Emirates Airlines | Terminal A |
| Qatar Airways | Terminal A |
| Lufthansa Airlines | Terminal A |
| Air France | Terminal A |
| Turkish Airlines | Terminal A |
| KLM Royal Dutch Airlines | Terminal 1 |
Emirates Airlines
Emirates, the flag carrier of the United Arab Emirates, connects direct flights from Johannesburg to London with a touch of Middle Eastern luxury & unmatched service. Renowned for its opulent interiors, gourmet cuisine, & extensive entertainment options, it ensures passengers experience the epitome of comfort.
With state-of-the-art aircraft & attentive cabin crew, your journey becomes a seamless & enjoyable adventure. Explore the world of this airline, where every flight is a testament to their commitment to excellence.
Qatar Airways
This one is a five-star airline, offering direct flights from Johannesburg to London (JNB to LHR), transforming your travel into an unforgettable experience. With a focus on hospitality & passenger satisfaction, it provides travelers with spacious cabins, delectable cuisine.
It also offers a wide range of entertainment choices. The airline's reputation for punctuality & exceptional service precedes it, promising a smooth & enjoyable journey. From check-in to landing, it ensures you reach your destination in style, making your trip from JHB to London a luxurious affair.
Lufthansa Airlines
This is the flagship carrier of Germany, with direct flights from Johannesburg to London with a blend of German precision & international connectivity. Known for its reliability & efficient services, it offers travelers a comfortable travel experience.
Experience the renowned German hospitality aboard their flights, complemented by a variety of amenities & in-flight entertainment. Its commitment to safety & customer satisfaction makes it a popular choice for passengers seeking a seamless journey. Travel with Lufthansa & discover the world of effortless travel.
Air France
Air France, the national carrier of France, introduces travelers to the epitome of European charm on direct flights from Johannesburg to London. Step aboard & indulge in a journey marked by sophistication & refined luxury.
Its commitment to culinary excellence is reflected in their gourmet offerings, promising a delightful gastronomic experience. With elegant interiors & a courteous crew, it ensures that your flight becomes an elegant prelude to your London adventure, where every moment is infused with the essence of French sophistication.
Turkish Airlines
This one seamlessly bridges continents on the route with direct flights from Johannesburg to London. Experience the unique blend of Turkish hospitality and global connectivity. It is renowned for its diverse menu options, ensuring your culinary journey is as exciting as your destination.
The airline's modern fleet and comprehensive entertainment choices make long-haul travel a breeze. Travelers can enjoy a layover in Istanbul, a city where East meets West, adding an enriching cultural experience to your journey. Discover the world with Turkish Airlines, where each flight is a testament to their commitment to connecting diverse cultures.
KLM Royal Dutch Airlines
KLM is the oldest airline in the world still operating under its original name, offers a perfect blend of heritage & contemporary travel on direct flights from Johannesburg to London. Immerse yourself in the airline's rich history while enjoying modern amenities.
KLM's emphasis on customer satisfaction is evident in their comfortable seating, delectable cuisine, and top-notch service. With a reputation for punctuality and attention to detail, KLM ensures your journey is smooth and stress-free. Travel with KLM and experience the timeless elegance of air travel, where classic values meet modern comfort in every mile you traverse.
How Much Are Flights From JNB to London?
Planning direct flights from Johannesburg to London (JNB to LHR) & curious about flight prices? Navigating the skies between these vibrant cities offers a range of options catering to various budgets & preferences. Flight prices from JNB to London typically fluctuate based on factors like airline, travel season, & booking time frame.
From affordable nonstop fares starting at $215 to more flexible round-trip tickets averaging around $474, travelers can tailor their journey to match their needs. Whether you're eyeing the enchanting off-season tranquillity in October or the bustling peak period of April, exploring flight costs allows you to craft a seamless travel experience tailored to your wallet and wanderlust.
| | | |
| --- | --- | --- |
| Flight Type | Price Range | Season |
| Nonstop | Ranging from $215 – $500 | October |
| Round-Trip | Ranging from $474 – $800 | April |
How Long Is A Flight From Johannesburg To London?
The flight duration for direct flights from Johannesburg to London varies depending on several factors. It includes the specific cities of departure and arrival, as well as the chosen airline and route.
Generally, non-stop flights between JNB and LHR take approximately 11 to 12 hours.
However, direct flights can sometimes be slightly longer due to factors like wind speed & direction.
In terms of distance, both are approximately 8,200 kilometres apart when considering a direct flight path.
This significant distance, spanning across continents & time zones, makes this route one of the long-haul flights in the aviation industry.
Airlines operating for direct flights from Johannesburg to London usually utilize large, long-range aircraft, equipped with advanced technology & amenities to ensure the comfort of passengers during the extended flight.
It's important to note that Johannesburg to London flight time can vary for connecting flights, depending on the location & duration of layovers.
Passengers are advised to check with their respective airlines for the most accurate & up-to-date information regarding flight durations & schedules when planning their journey.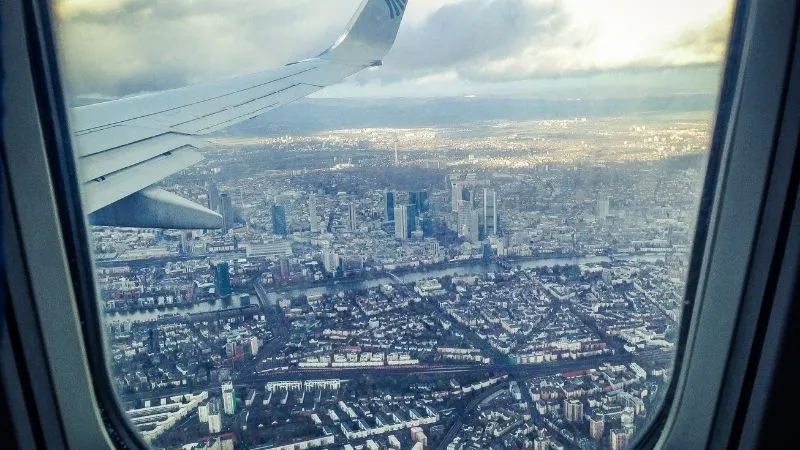 Aircraft Used For Flights from Johannesburg To London – JNB to LHR
Direct flights from Johannesburg to London are operated by a variety of modern & efficient aircraft. Ensuring passengers a comfortable & safe journey across the continents. Some of the commonly used aircraft on this route include:
Boeing 777:- Often deployed by major carriers, the Boeing 777 series offers long-range capabilities and spacious interiors, ensuring a smooth and pleasant flight experience.
Airbus A350:- Known for its fuel efficiency and advanced technology, the Airbus A350 provides a quieter and more comfortable ride, equipped with state-of-the-art amenities.
Boeing 787 Dreamliner:- This aircraft is favored for its innovative design, large windows, and enhanced passenger experience. It offers improved air quality and reduced jet lag, making long-haul flights more enjoyable.
Airbus A380:- Although less common on this route, some airlines operate the Airbus A380, the world's largest passenger aircraft. With its spacious cabins and luxurious amenities, it provides an unparalleled travel experience.
Boeing 747:- While gradually being phased out by many airlines, the Boeing 747, also known as the "Queen of the Skies," is still utilized by some carriers for direct flights from Johannesburg to London. It's known for its iconic humpbacked design and spacious interiors.
Tips To Book Cheap Flights From Johannesburg To London (JNB to LHR)
Finding affordable direct flights from Johannesburg to London (LHR) can be achieved with careful planning and savvy strategies. These expert tips ensure you snag the best deals, whether it's booking in advance, staying flexible with dates, or exploring nearby airports. Here are some tips to help you book cheap flights:
Booking your flight well in advance, ideally several months before your travel date, can often secure lower fares.
Travelling on weekdays, especially Tuesdays and Wednesdays, can be significantly cheaper than flying on weekends.
Consider flying during the off-peak season, typically in months like October, when fares tend to be lower.
Use travel websites or apps to set fare alerts for specific dates. This way, you'll be notified when prices drop, allowing you to book at the best possible rate.
Keep in mind that booking directly with the airline can sometimes offer exclusive deals.
Check prices for flights from nearby airports. Sometimes, flying from a nearby airport can be considerably cheaper, even after factoring in additional travel costs.
Many budget airlines offer lower fares for passengers who travel with only carry-on luggage.
If you're a member of a frequent flyer program, consider redeeming your miles or points for a free or discounted ticket. It also follows Johannesburg to Durban flights.
When searching for flights, use private or incognito browsing mode to avoid dynamic pricing based on your search history.
Prices can fluctuate throughout the day. Be patient and keep checking prices.
Direct flights from Johannesburg to London are convenient, but connecting flights with a layover can often be more budget-friendly.
Advantages Of Flights From JHB To London
Travelling with direct flights from Johannesburg to London offers a multitude of advantages, making it one of the most popular international flight routes:
Flights between JHB & London are typically non-stop, ensuring a direct and time-efficient journey.
Both are major international hubs, providing extensive flight options and seamless connections to various destinations worldwide.
Airlines operating on this route often deploy modern and comfortable aircraft, equipped with advanced amenities.
Passengers can enjoy spacious seating, entertainment systems, and premium services, ensuring a pleasant travel experience.
The route caters to both business travelers and tourists. London, as a global financial hub and cultural hotspot, attracts professionals, entrepreneurs, and tourists alike.
The route fosters cultural exchange between two diverse regions.
With various airlines operating on this route, travelers have the flexibility to choose from different flight timings, service classes, & price points.
Reputed airlines ensure high-quality service, providing passengers with attentive cabin crew, delicious cuisine, and a comfortable environment.
Both cities serve as gateways to numerous tourist attractions.
Johannesburg offers unique wildlife experiences and historical sites, while London boasts iconic landmarks, museums, theatres, & diverse culinary experiences. It provides travelers with a wide array of activities to enjoy.
Frequently Asked Questions About JNB to LHR Direct Flights
Welcome to our FAQ section for direct flights from Johannesburg to London. Find answers to your queries about flight options, ticket pricing, travel tips, and more. Your comprehensive guide to a hassle-free journey awaits.
How many hours is the flight from JNB to LHR?
Non-stop flights typically take around 11 to 12 hours, offering a non-stop connection between the two cities.
Which airlines operate direct flights between Johannesburg and London?
Major carriers like British Airways, Virgin Atlantic, and South African Airways offer direct flights on this route.
How far is Johannesburg from London?
The distance between Johannesburg and London is about 5,100 miles on a direct flight path.
When is the best time to book direct flights from Johannesburg to London?
Booking in advance, especially during off-peak seasons like October, often secures the best deals on direct flights.
Are there any non-stop flights on this route?
Yes, there are non-stop flights available, ensuring a direct connection between Johannesburg and London without layovers.
What amenities are provided on direct flights between Johannesburg and London?
It offers amenities such as in-flight entertainment, meals, and comfortable seating, ensuring a pleasant journey for passengers.
Is it possible to select my preference for seats?
Most airlines allow passengers to select their seats during the booking process, providing options for preferences like window or aisle seats.
Are direct flights more expensive than connecting flights?
It can sometimes be more cost-effective, considering the time and convenience saved by avoiding layovers and additional flights.
Is Wi-Fi available on direct flights from Johannesburg to London?
Some airlines offer in-flight Wi-Fi services, allowing passengers to stay connected during the journey, although availability may vary.
Am I allowed to earn my miles on these flights?
You can usually earn frequent flyer miles when travelling on flights between JNB & London, provided they are members of the respective airline's loyalty program.