Eye drops could be one of the essential items that you may have to carry while traveling. In fact, medicine to be taken on a flight is one of the major concerns for travelers, as they also need to be packed as per the TSA rules.
So, if you are all set to pack your bags, owing to an upcoming air trip, one question must be bothering you: how can you bring eye drops on a plane?
Apparently, the TSA issues instructions and guidelines for the benefit of passengers. There could be someone trying to conceal a prohibited item. Hence, strict measures are put in place from time to time in order to keep an eye on suspicious activities, happening through the TSA airport security checkpoint.
So, what about eye drops? Go ahead and find out the rules!
TSA Regulations: Can You Bring Eye Drops On A Plane?
The TSA is concerned about the needs of passengers, especially in terms of medication. No matter, whether you use eye drops, as prescribed by a medical expert, or use them generally on and off, you are permitted to bring eye drops on a plane.
Since eye drops are in liquid form, you need to pack them as per the TSA liquid limit or the 3-1-1 rule, if you pack them in your cabin bag or hand luggage.
This rule allows you to bring small packs of eye drops, either in original bottles or eye drops poured into small containers. Just keep in mind the total capacity of these bottles or containers must not be more than 3.4 ounces or 100 ml.
They must fit into a small, transparent, quart-size bag, which is to be placed into your cabin bag. Well, if eye drops are more than 3.4 ounces, you need to pack them in your checked luggage.
TSA Medications (Liquid) Rule
It is important to highlight that the TSA allows passengers to pack "medically necessary liquids" in containers of more than 3.4 ounces even in cabin bags. Thus, if you are taking eye drops for medical reasons, it's fine to take them without complying with the 3-1-1 rule. Still, there should be a reasonable limit.
You are advised to consider the following points:
You need to declare such liquids at the security checkpoint. If the TSA officer raises any queries, you must be prepared to answer the same.
You can carry your doctor's note or prescription and present it if required. Usually, this is important on international flights, but you may keep it even on a domestic flight to be on the safe side.
Such items may also need to be kept in a separate bin for individual screening. This is a major step taken by the TSA so as to identify that the product is real and no explosive or prohibited item is taken on board.
If anything triggers an alarm during screening, additional verification may be held. The bottles or containers of eye drops may also need to be opened.
It always depends on the sole discretion of the TSA officer whether they will let you go ahead with a certain product packed in your bag. It may be confiscated if found doubtful or harmful to other passengers.
Apart from the above, the TSA's website also mentions certain scenarios due to which you can take these liquid items in more quantities in hand luggage.
The item will not be found in the sterile division at the airport.
The item is to be used on the flight or at the destination. No wonder, it is to be used at both places. 
It is sure that the item will not be available at the destination.
So, that was all about "medically necessary liquids". In fact, aerosols taken for medical reasons can also go in quantities of more than 3.4 ounces in a carry-on bag.
Do Eye Drops Count as Liquid TSA?
Yes, eye drops count as liquids by the TSA. If you remember a simple rule, you will be sorted for taking such items as per the defined instructions every time on travel.
Anything that can be pumped, squeezed, spread, smeared, or sprayed, is considered liquid. So, eye drops also need to be taken as the 3-1-1 rule for liquids, already discussed above.
Even some eye drops are also available in gel form. The same rule applies to them unless they are taken for medical reasons.
Can I Bring Eye Drops on a Plane in Hand Luggage?
The TSA does not restrict passengers from taking eye drops in hand luggage. It's just about taking care of the TSA's 3-1-1 rule for liquids taken in this bag, as already discussed above. Please be mindful of packing eye drops properly. Moreover, each and every item should be well-organized so that everything gets screened smoothly at the checkpoint.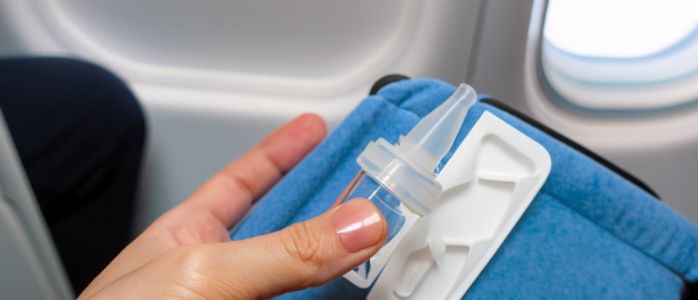 If something seems to be blocking the view of the TSA officer, it may need to be taken out for separate screening. If you have already kept it fine, you will just take it out in a jiffy, hence, avoiding delays.
If you believe you will need more of eye drops on your travel, they can be packed in your checked luggage. This is so because the quantity allowed in a carry-on or cabin bag is less than or up to 100 ml or 3.4 ounces. Following the TSA's advice will help you proceed through the security checkpoint with ease.
You can even pack painkillers that are available in liquid form such as Ibuprofen in your cabin bag.
How Do You Travel with Eye Drops that Need Refrigeration?
If you are taking eye drops requiring refrigeration, the best way is to keep an ice pack or a cooler bag, along with them. Even gel ice packs work fine in such cases.
However, the basic nature of ice is liquid. So, if the ice has melted during screening at the TSA security checkpoint or there is some water, the ice pack must meet the liquid limit or the 3-1-1 guideline. There will be no issue if it stays in solid form.
Well, if it is taken for medical reasons, as ice packs are generally taken as accessories to keep the main item cool, then you need not go as per the liquid rule.
You may seek more information or clear your doubts by getting in touch with the TSA team on Twitter. Ask your query in a tweet while tagging their handle @AskTSA for a quick response.
Can I Take Eye Drops on a Plane in Checked Luggage?
Absolutely! You can pack eye drops in your checked luggage without any issues. Just make sure to pack them in a separate pouch or small bag and then keep them in your suitcase. This is to make sure that there are no unintentional leaks or spills.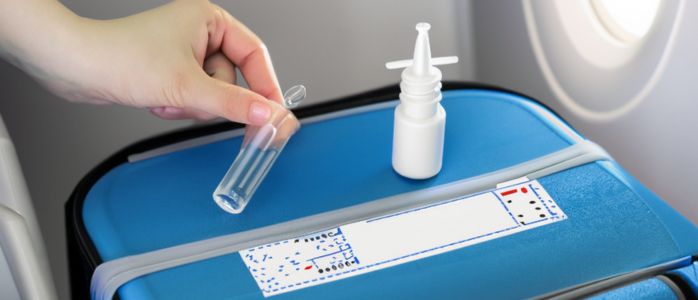 Checked bags go through transfers. It depends on the handlers whether the belongings of passengers inside their bags stay intact or not. If your bag comes into the hands of a careless handler, it might be thrown abruptly, and the items can get damaged. Therefore, if the items are packed carefully, the probability of damage can be avoided.
Final Thoughts
We hope to have suitably answered your query, can you take eye drops on a plane? Eye drops are permitted by the TSA whether you pack them in your cabin bag and/or checked luggage. The TSA's 3-1-1 rule applies in case you take eye drops in the cabin bag or carry-on, as they are in liquid form.
However, you need not follow this limit if eye drops are taken for medical reasons and have been prescribed by your doctor. In such a case, you are recommended to keep the prescription or your doctor's note with you, especially if you are boarding the flight to an international destination.
Eye drops in bottles or containers of more than 3.4 ounces (the limit for carry-ons) are allowed to be packed in your checked bag.
---
Frequently Asked Questions
Take a look at some of the major queries related to can you bring eye drops on a plane?
Can you take eye drops onto a plane?
Yes, eye drops can be taken on a plane in both types of bags. But, you need to abide by the TSA liquid limit in the case of a carry-on bag, provided you are not taking them for medical reasons. Well, more quantities are permitted in checked bags.
Does TSA consider ointment a liquid?
Yes, ointment is a sticky, gel-like substance, and hence, counts as a liquid item. You need to pack it as per the 3-1-1 rule for liquids defined for carry-on bags. But, you need not comply with this rule if the ointment is taken as prescribed by a medical expert.
Can you take non prescription medication on a plane?
As per the TSA, you need to carry prescription medication or a doctor's note on international flights for sure. But, a prescription may not be necessary on domestic flights. However, you may still carry the same to be on the safe side.