You may find it complicated to pack all you need for a trip. There are a lot of items for personal use or maybe you have something for your official purpose.
However, if you are fond of being in style, a Dyson Airwrap must be something you will probably not ignore while packing your bags. If you're thinking to bring the same on your upcoming air trip, there are a few things you should know about the TSA policies.
Can You Bring Dyson Airwrap on a Plane As Per TSA?
Although the world of travel can be perplexing for you due to security procedures at airports, you may stay relieved as the Dyson Airwrap is allowed to be taken through the TSA security checkpoint.
Nevertheless, it's beneficial to be wary of the guidelines. Everything you need to know to ensure that your hair looks amazing on the go will be covered in this comprehensive guide.
TSA Dyson Airwrap Regulations
The Dyson Airwrap is acceptable in checked bags as well as carry-on luggage, according to the TSA. It is crucial to remember that the TSA has special regulations regarding the transportation of electronic devices.
To avoid any damage during the travel, it is advised that you pack your Dyson Airwrap in a protective case or sleeve. You should also make sure that all cords and attachments are safely tucked away in your carry-on bag to prevent loss or damage.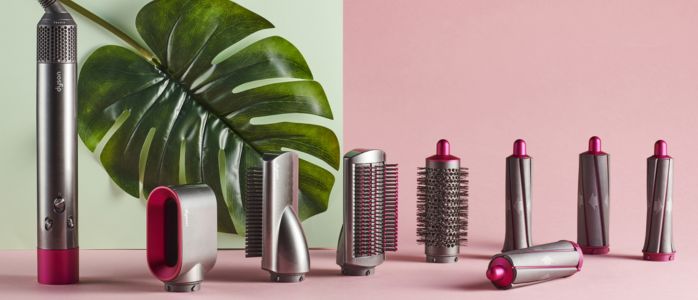 It is also crucial to confirm any additional electronic device restrictions your airline may have with them. It's important to be aware that some airlines may have special guidelines for carrying electronic devices onboard flights.
Also, they may have defined rules to take Airwrap as a carry-on item and not a personal item. Gather every single detail before you travel.
Well, it is also important to check if your destination country will have the voltage limit, required for your Airwrap. If not, it is recommended to pack the voltage converter.
Can I Bring Dyson Airwrap on Plane in Carry-on Bag?
Yes, you are allowed to pack your Dyson Airwrap in a carry-on bag. However, you must stay well-informed about the specific policies defined by your airline in this regard. Some airlines may have rules regarding carrying the Airwrap or hairdryers as carry-on items, while some may consider them as personal items.
Also, make sure to pack it properly as there are many hair styling tools in the Airwrap. You may be asked by a TSA officer at the security checkpoint to take it out from the bag for additional verification.
As you may already be aware, it's always in the hands of TSA officers to let you go ahead with all your items. Even a small doubt can force them to confiscate your item. At that time, you can either pack your item in the checked bag if you have one, mail it to your home, or leave it there only.
Can I Bring My Dyson Airwrap on a Plane in Checked Baggage?
You can definitely pack Dyson Airwrap in your checked baggage. However, it is recommended to pack it in your cabin baggage and take it along with you on board, due to the chances of theft or damage. There have been cases where the Airwrap of some passengers was stolen.
Well, if you need to keep it in your checked baggage, you must make sure to pack it properly. Checked bags are often mishandled by people on duty. Thus, it is better to make such arrangements in advance so that your items remain safe.
Can I Fly with a Dyson Battery?
The TSA proceeds as per the rules defined by the Federal Aviation Administration (FAA) for batteries. There are all-inclusive rules for different types of batteries on the TSA's official website. If you wish to carry spare or extra lithium batteries, you must pack them in your carry-on bag only, as per the instructions.
Well, generally, the TSA also suggests passengers to remove batteries from their items and keep them separately when they pack such items (with removable batteries) in cabin baggage. You may write a tweet and tag the TSA's handle @AskTSA to seek answers to your queries, if any.
Please keep in mind that you may be asked by a TSA officer to remove the batteries from your bag for separate screening at the security checkpoint.
How to Travel with Dyson Airwrap? Useful Tips to Pack it in a Checked Bag
It is important to ensure the safety of your products or belongings in checked baggage. First of all, it can be taken intact in the packaged box that came originally when you purchased it.
If you don't have it at the moment, you can take a look at some other easy packing tips given below.
Wrapping your Dyson Airwrap in a case or bag for protection is one of the most crucial things you can do. This will lessen the chance of it being dented or scratched during transportation.
To protect it from being harmed by other items, you might want to place your Airwrap in a different section of your luggage.
You can use the built-in straps and compartments of a hard-sided bag to secure your Airwrap if you are travelling with one.
To keep your Airwrap separate from the rest of your belongings in a soft-sided suitcase while travelling, use packing cubes or other organisers.
Conclusion
So, that was a complete guide on can you bring dyson airwrap on a plane. As long as you follow the TSA's rules and consider your airline's guidelines, taking your Dyson Airwrap in your carry-on or checked bag shouldn't pose any issues.
It's crucial to comprehend the voltage needs and packing advice for your hairdryer whether you are travelling domestically or abroad. Well, you may also want to just bring a hairdryer, which would be extremely easy to manage. But, if you want to bring the Airwrap only, be sure to take it in cabin baggage to prevent it from theft or damage.
If you can take it only in checked baggage, make sure to pack it properly. We hope you stay in style on your upcoming trip.
---
Can You Bring Dyson Airwrap On A Plane (FAQs)
Here are some common questions on Can You Bring Dyson Airwrap on a Plane that travellers often ask. Take a look and plan ahead for a hassle-free air journey.
Can I carry Dyson Airwrap in hand luggage?
Yes, you can bring it in your hand luggage without any difficulty. But, you need to comply with the rules defined by your airline, whether it can be taken as a personal item or a carry-on item.
Can I bring my Dyson Airwrap abroad?
Absolutely! You can travel with it on a foreign tour. Nevertheless, make sure to proceed as per the rules defined by your airline. It is also important to check whether the country you are visiting provides voltage requirements as per the Airwrap or not. Otherwise, you may need to pack a voltage converter.
Can I take my Dyson Airwrap to India?
Certainly! You are allowed to travel with Dyson Airwrap to India. Do adhere to specific rules, if defined by your airline. Also, take care of the availability of voltage limit required for your product, when you visit a foreign location.
---
Related Articles