Undoubtedly, traveling is a fascinating way to discover new aspects of life. The idea of traveling inspires us to go into an exciting action mode and make plans. Uncertainties, though, can appear at any time. And in order to handle such circumstances, we need to have a solid plan in place, especially when traveling solo.
One such precaution is carrying a life-saving product. Carrying a taser, shocking device, or pepper spray could be a useful option.
Currently, in accordance with the guidelines established by the TSA (Transportation Security Administration), it is necessary to confirm in advance whether a taser is allowed on flights or not. This is significant for you due to the strict security measures implemented by TSA.
Here is a detailed write-up to make you familiar with TSA guidelines for carrying a taser on a plane.
Are Tasers Allowed By Airlines?
Airlines such as American, Delta, JetBlue, Alaska, Spirit, and Southwest also advise passengers to go as per the TSA rules. Hence, there won't be any problem taking tasers in your checked baggage on flights by these airlines. However, United Airlines advises you to keep these items after disconnecting them from their power source.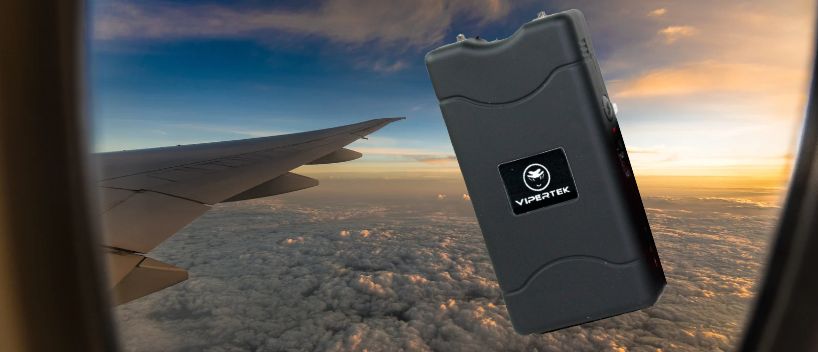 Can Bring A Taser (Stun Guns/Shocking Devices) On A Plane Through TSA?
Transportation Security Administration regulation on bringing Stun Guns and Electro-Shock Devices in flights within the U.S.A
Electro-Shock Weapons in Carry-On Baggage
Not Allowed
Stun Guns in Checked Luggage
Allowed
( But you have to follow Special Instructions )
International flights have different regulations to carry Stun Guns, Tasers and Electro-Shock Devices in carry-on or checked luggage. It is recommended to refer the transportation policy of the airlines and the destination country.
Is It Legal To Carry Tasers?
Such information should be gathered as early as possible. You must be as knowledgeable about the location or state you are traveling to as possible.
Every state has its own set of laws. Carrying tasers or shocking devices is permitted in some states, while some have completely banned it. You might also have to provide background checks in some states.
As far as it is about carrying tasers internationally, you must confirm this strictly with the relevant authorities. This is because you might land into trouble by carrying shocking devices to other countries.
Can You Take A Taser On A Plane In A Carry-On Bag?
TSA believes that having a taser is essential from the standpoint of a passenger, as it becomes necessary to use the same as a self-defense weapon on travel. But, some people might board the flight with the intention of causing harm to passengers, and therefore, they might use it as a weapon.
There is also a danger that the taser can be inadvertently operated by a passenger during the flight. This could endanger the lives of people and crew onboard.
Because of this, the TSA prohibits keeping tasers, electro-shock weapons, or stun guns in a carry-on bag. You must take care of the fact that if you carry a taser in the carry-on and it sets the alarm on at the security checkpoint, TSA can take an action against you. So, it's better to be careful rather than facing harsh consequences.
Can You Travel With A Taser In Checked Luggage?
TSA permits you to carry a taser or shocking devices in your checked luggage, provided you follow the defined conditions. You must pack them safely or in a manner that does not cause them to function while being placed in the bag.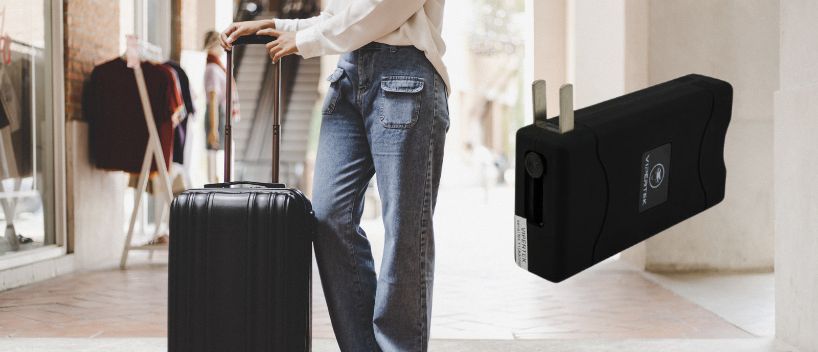 This is because the luggage goes through transfers and accidental discharge can happen. So, shocking devices need to be packed properly so that they become inoperable and are safe to handle.
Moreover, many of such items are powered by lithium batteries. So, you need to check beforehand that the batteries are not more than 100 watts. 
In addition, make sure that the batteries are not damaged or do not have a fault. Otherwise, they can probably create sparks and generate excessive heat. So, first, remove such batteries from the device or make sure that the device is safe to carry. Thereafter, you can keep the item in the baggage.
It is also beneficial to seek further assistance or information from the customer support team of the airline you are traveling with.
Conclusion
We advise you to be prepared with a foolproof travel plan ahead. Be doubly sure that you have kept the taser or electro-shock weapon in checked luggage only.
Also, see to it that these devices are packed with care in your bag because the ones with faulty batteries could produce heat. This has the potential to lead to undesirable consequences.
---
Frequently Asked Questions
Can I bring a taser on a plane?
Yes, you can bring a taser on a plane.
Can I bring my stun gun on a plane?
Yes, you can bring a stun gun on a plane.
Can I bring a stun gun in checked baggage?
Yes, you can bring a stun gun in checked baggage.