You may need to bring tobacco or such products on a flight, if you are habitual of consuming it. However, there are strict rules defined by the TSA for the safety and security of passengers. So, certain items are prohibited to be brought on flights.
Even if you wish to carry cigars on a plane, you need to abide by such guidelines. Hence, if you are perplexed by this question, can you bring tobacco on a plane, fret not! We have brought this complete guide on bringing tobacco on a plane.
Make sure to go through the same for detailed information and a stress-free air journey ahead.
TSA Rules: Can You Bring Tobacco on a Plane?
As per the TSA guidelines, you are allowed to bring tobacco on a plane. It can be packed in your carry-on and/or checked luggage.
Nevertheless, here all you need to do is to connect with the team of your airline and confirm the related instructions or rules defined by it. Apart from chewing or dipping tobacco, you may feel the need to bring even cigarettes in your bag.
Well, did you know that the TSA has a similar take in the case of nicotine pouches packed in bags of passengers?
Can You Take Tobacco on a Plane in a Cabin Bag?
There are no restrictions defined by the TSA. In fact, as long as you follow the tobacco-related rules set by your airline, you are good to go with it on a flight.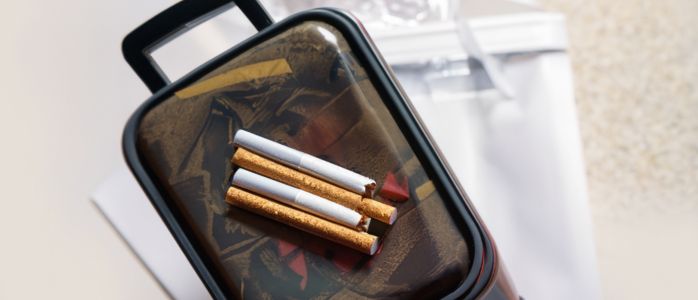 All the airlines have different policies regarding tobacco and its products. It is significant for you to stay informed about every single detail as a little negligence can land you in trouble. We would also like to inform you that the passengers are restricted to carry illegal items such as weed packed in bags.
Can You Bring Tobacco on a Plane Internationally?
The TSA tobacco rule remains the same whether you wish to bring tobacco on an international flight. You are recommended to collect details about the rules established by your airline by contacting its backend team.
You can also browse through the website of your airline. In fact, asking a query through Twitter is the most convenient option nowadays. You can write your question in a tweet and tag the handle of your airline to get a response or to seek guidance from them.
Apart from this, it is mandatory for you to stay informed about the rules set by your destination country. If your products are confiscated at the customs department, you will end up facing disappointment.
Is Tobacco Allowed on Planes in Checked Luggage?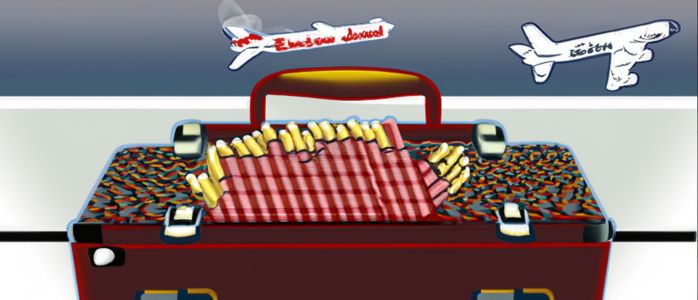 Yes, tobacco is allowed in your checked baggage, as per the TSA. But, it is again about taking tobacco on a plane in your checked baggage, as per the guidelines issued by your airline. Even if you are permitted for the same, please be mindful to pack it within reasonable limits.
Is Chewing Tobacco Allowed in Flights?
As per the TSA rules, passengers may be allowed to chew tobacco on board. However, when it comes to considering the specific regulations set by the airline itself for its flights, some airlines are found to be allowing it, while some restrict it.
So, you are advised to confirm the related instructions by your airline. Chewing tobacco and dipping on a flight may cause disturbance or irritation to the passenger sitting right next to you. In fact, Twitter is full of such cases where passengers have shared their unpleasant experiences on a flight due to another person using tobacco.
Bottom Lines
This is how we reflected upon a query that bothered you, can i bring tobacco on a plane? So, the TSA certainly has no issues with passengers carrying tobacco in their cabin bags or checked luggage. It's just that you should abide by what your airline has defined in this regard. Some airlines even allow passengers to chew tobacco or do dipping.
Well, if you are visiting an international destination, you must conduct deep research about the rules and regulations formed by that specific country. This is important because if you are questioned by the customs department upon arrival, it may land you in trouble.
---
Frequently Asked Questions
Here are some of the most commonly raised queries asked by travellers on can you bring tobacco on a plane? Make sure to go through the same in order to stay informed and enjoy a hassle-free air journey.
Can I take tobacco on a plane?
Yes, you can take tobacco on a plane, whether in your cabin bag or checked luggage, or even both. But, you must confirm the related rules set by your airline.
Can I carry tobacco in hand luggage?
Yes, you are permitted to carry tobacco in your hand luggage or carry-on bag. However, you are recommended to also follow the rules defined by your airline.
How much tobacco can you fly with?
The TSA has not mentioned any such limitations on the amount of tobacco taken by passengers on planes. Nevertheless, you must be careful and should pack it in a reasonable amount. Any doubt in the mind of a TSA officer can lead to additional verification and in fact, confiscation of your product.
Is chewing tobacco allowed in international flight?
Although the TSA allows you to carry chewing tobacco on a flight, it depends on the rules defined by your airline. Apparently, rules become even stricter in case of international travel. So, you must gather full information about the laws or restrictions defined by your destination country.