The popularity of air fryers has gained momentum in the past few years. With increasing health awareness, people have changed their eating habits and cooking styles. In such a scenario, air fryers are found to be in tremendous use nowadays, as they can easily make various non-oily or non-fried food dishes.
If you are also much into using an air fryer, you must be planning to take it with you on an air journey as you may be visiting a location for a long stay. Well, you may be shifting to a new place, and hence, taking your belongings with you.
Since an air fryer is an electronic item, it is better to be conversant with the rules implemented by the Transportation Security Administration (TSA) for packing electronic devices in bags.
Go ahead and read the article in detail.
Can You Take an Air Fryer on a Plane?
Well, there are no such restrictions defined on taking an air fryer on a plane. However, both wired and wireless air fryers are used these days. In fact, Wi-Fi-enabled air fryers are also in use. So you need to check if your appliance runs on lithium batteries. If this is so, you must be aware of the regulations related to batteries.
Not only this, policies defined by your airline also play a major role. Check with their backend team, as such items may be considered as a carry-on. There may be rules on proper placement of air fryers on board like your airline may have necessitated it to stow them in the overhead bin or under the seat in front of you.
Some airlines may not allow you to take them in hand luggage if they exceed a specific size and weight limit. So, be careful and pack such items accordingly in your carry-on and/or checked luggage.
However, it is always at the discretion of TSA officials whether to permit you to pass through the security checkpoint with all of your belongings. Depending on the situation, more screening may be done. But, you must be prepared for the screening process.
It's suggested to keep the air fryer and its accessories separately and well-organized in hand luggage. If you are asked to take them out, you can just do it quickly.
TSA Frying Pan Rules
As mentioned on the official website of the TSA, passengers can bring frying pans or pots in their carry-on bag and/or checked luggage. However, cookware or skillets made of cast iron are strictly prohibited to be placed in carry-on bags. They can only be taken in checked baggage.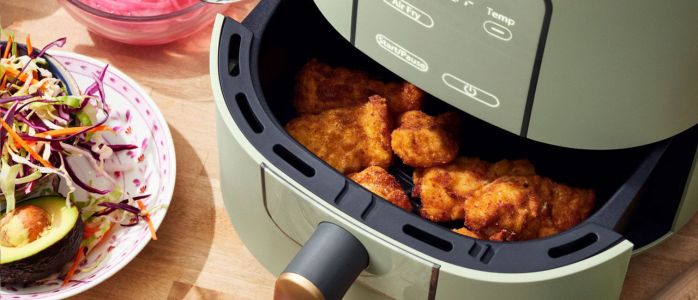 Therefore, you must comply with the TSA rules in order to have a smooth travel experience. Otherwise, your item may get confiscated or thrown away by the TSA officers at the security checkpoint. It would certainly be disappointing seeing your item in this state, especially if you are taking it for your close friends or relatives.
And yes, you must properly pack such fragile items, as they can get damaged. Wrapping them with bubble wrap or foam and then placing them in a hard case or carton is a good option. You can pack their lids separately and securely by covering them with bubble wrap.
Conclusion
You can bring an air fryer in both types of bags, provided you follow the related norms set by your airline. The TSA also allows you to bring pots and pans. But, the cookware must not be made of cast iron otherwise it won't be allowed in your carry-on bag.
---
FAQs On Can I Bring an Air Fryer on a Plane?
The following queries related to Can I Bring an Air Fryer on a Plane will help you pack your carry-on and checked bags accordingly. Take a look.
Can you carry air fryer on plane?
Yes, you can bring an air fryer on a plane. But, as you may know, modern air fryers can be either wired or wireless. Thus, you need to check if your appliance runs on lithium batteries. If so, you need to be aware of the battery-related TSA rules. Also, check with your airline for specific guidelines.
Is frying pan allowed in flight?
Yes, you are allowed to take a frying pan on a flight. Only the ones made of cast iron are not permitted in hand luggage, as mentioned on the TSA official website. You can take them in checked luggage. Make sure to follow such rules, otherwise, your item may be confiscated at the security checkpoint.
Can I carry cooking pan in hand luggage?
Cooking pans are absolutely allowed in hand luggage, provided they are not made of cast iron. Cast iron skillets or pans can be taken in checked baggage without any hassle.
Can I bring an air fryer through TSA?
Yes, you are permitted to bring an air fryer through the TSA. But, if you wish to bring a wireless or WI-FI operated air fryer, which may be powered by batteries, you need to check the related rules set by the TSA as well as your airline.